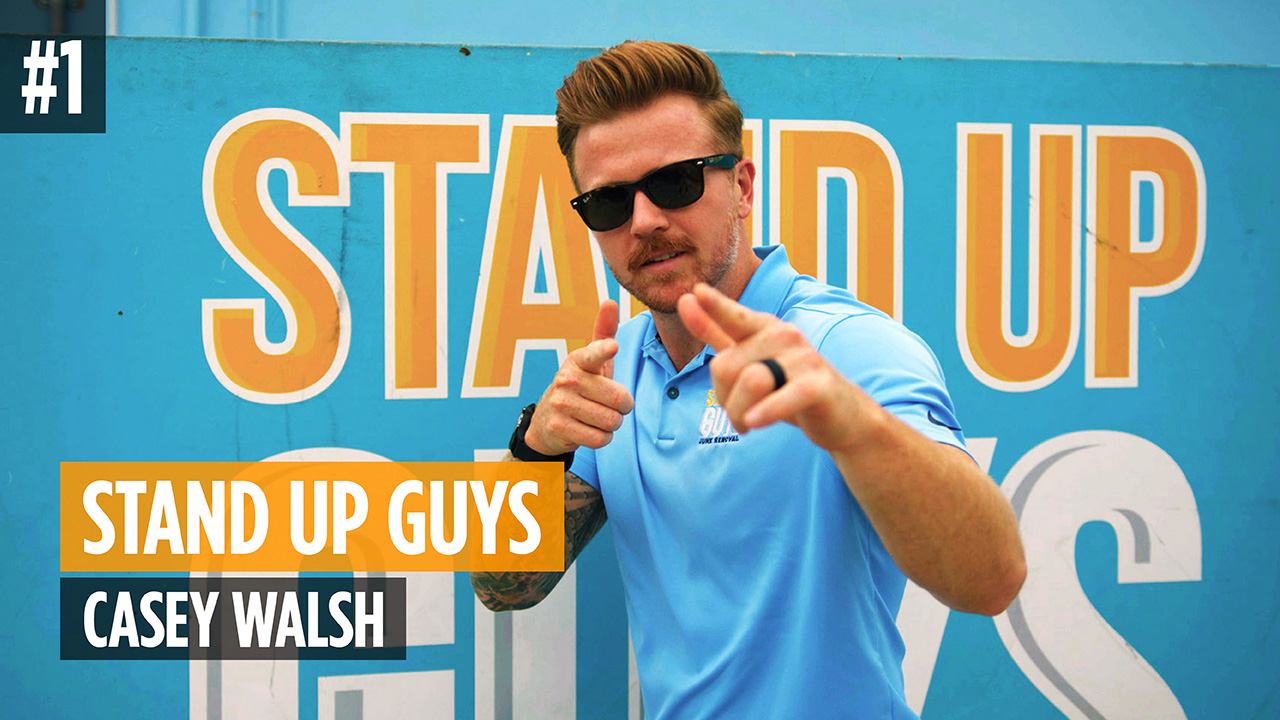 Our partner company, Sweat Venture, interviewed Casey Walsh, owner of Stand Up Guys Junk Removal. Generating $7,000,000+ per year in revenue, Stand Up Guys is the premier junk removal company of the South—with locations including Tampa, Atlanta, Nashville, Austin, and more.
Considered to be highly-lucrative and to generally have low startup costs, a junk removal business is a service provider that assists individuals, businesses, or municipalities clear unwanted items or waste from their properties. This may include a wide range of materials such as old furniture, appliances, yard waste, construction debris, or general clutter. The junk removal business collects these items then safely and ethically disposes them, which often includes recycling or donating items when possible.
Are you thinking about starting a junk removal business? If so, consider these takeaways from Casey's interview…
What Services Can You Offer?
The owner of a paver sealing business might want to consider these services:
Residential junk removal: Clearing out unwanted items from homes—such as old furniture, appliances, electronics, and general clutter.
Commercial junk removal: Removing waste from businesses or offices—including old office equipment, paper waste, and furniture.
Construction debris removal: Cleaning up debris from construction or renovation sites—including wood, metal, concrete, and drywall.
Yard waste removal: Disposing of organic waste such as branches, leaves, grass clippings, and other landscaping debris.
Estate cleanouts: Clearing out homes after a death or move, which can include everything from furniture to personal items.
Foreclosure cleanouts: Removing all items left behind in a property after a foreclosure.
Appliance removal: Disposing of old or non-working appliances.
Electronics recycling: Properly recycling old electronics to prevent harmful components from ending up in landfills.
Mattress disposal: Removing and disposing of old mattresses.
Hot tub, pool, and large item removal: Dismantling and removing large items that can't be handled by typical waste services.
Trash removal: Routine removal of garbage or waste.
Disaster cleanups: Dealing with debris and damage after a natural disaster like a flood, fire, or storm.
Hoarding situations: Specialized cleanouts for properties affected by hoarding.
Donation pickup and delivery: Collecting items that are in good condition and delivering them to local donation centers.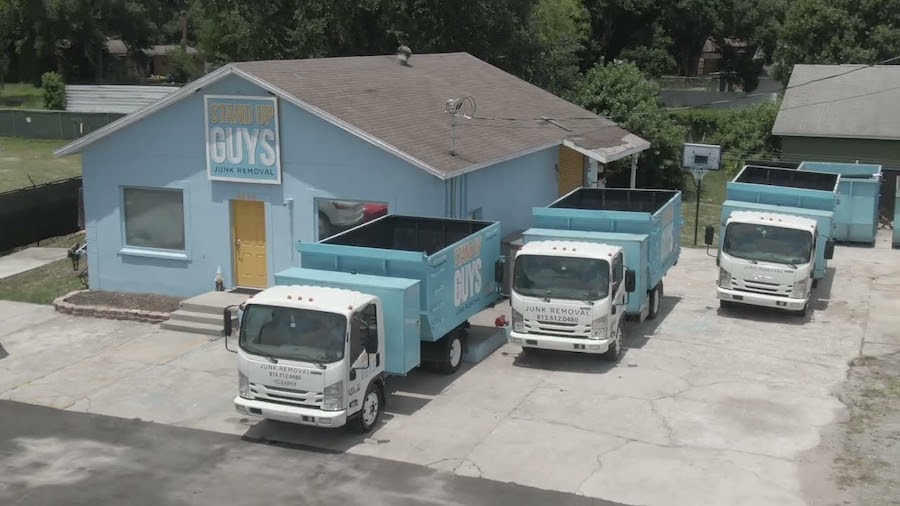 What Equipment is Needed?
The owner of a junk removal business might want to consider this equipment:
Trucks or trailers: The primary equipment for a junk removal business is a reliable truck or trailer, which are used to transport junk from the customer's property to the appropriate disposal or recycling facility.
Dollies and hand trucks: These are necessary for moving heavy items like appliances and furniture.
Shovels and rakes: These are useful for yard waste removal or clearing debris at construction sites.
Safety equipment: This typically includes gloves, safety glasses, hard hats, high-visibility vests, and steel-toe boots. Depending on the type of waste being handled, respirators or other protective clothing may also be necessary.
Lifting straps and harnesses: These can help with lifting and moving particularly heavy items.
Waste bins and containers: These are used for sorting and transporting smaller items or debris.
Power tools: Tools such as drills, saws, or sledgehammers may be needed for dismantling larger items like a hot tub or shed.
Cleaning supplies: These may be needed for cleanouts or to tidy up areas once junk has been removed.
Tarps: These can be used to protect the bed of the truck or trailer and can also help with general cleanup.
GPS and communication devices: These are essential for navigating to job sites and communicating with other team members or customers.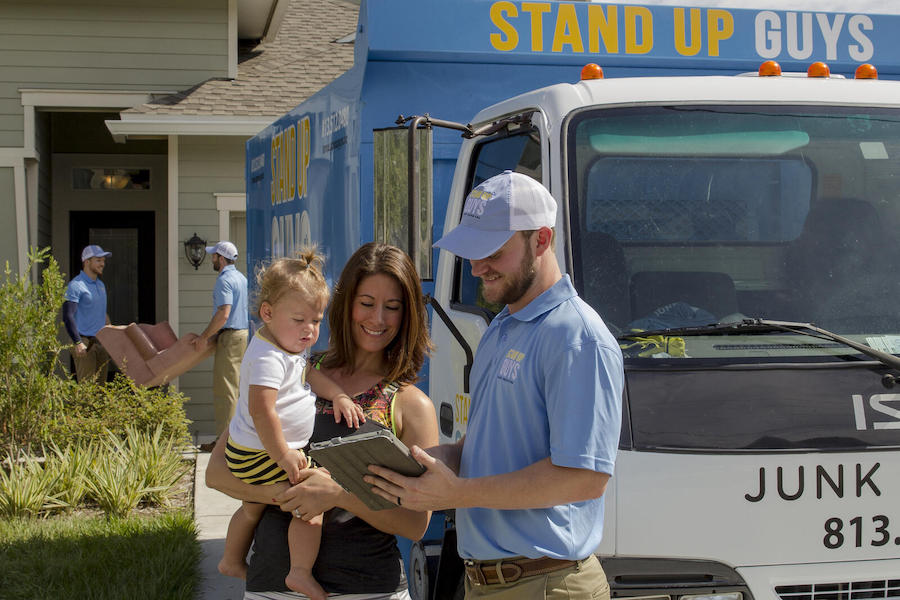 How to Get Clients
Getting clients for a junk removal business starts with identifying your target market. This could include homeowners, property managers, construction companies, businesses, or even municipalities. Once you know who your potential clients are, you can begin developing a marketing strategy to reach them. This marketing strategy might involve digital marketing tactics such as SEO and PPC advertising to make your business visible to people searching for junk removal services online. Social media platforms like Facebook and Instagram can also be effective for promoting your junk removal services and engaging with potential customers.
In addition, you might want to consider direct mail or local print advertising to reach potential clients in your area. Networking with local businesses, real estate agents, and home improvement contractors can also be a great way to gain referrals.
And, of course, providing solid customer service garners positive reviews and word-of-mouth referrals. Customer service includes being professional, punctual, and responsive—as well as properly disposing of items and leaving spaces clean. Consider how Casey managed to grow his businesses so quickly in new areas with excellent customer service.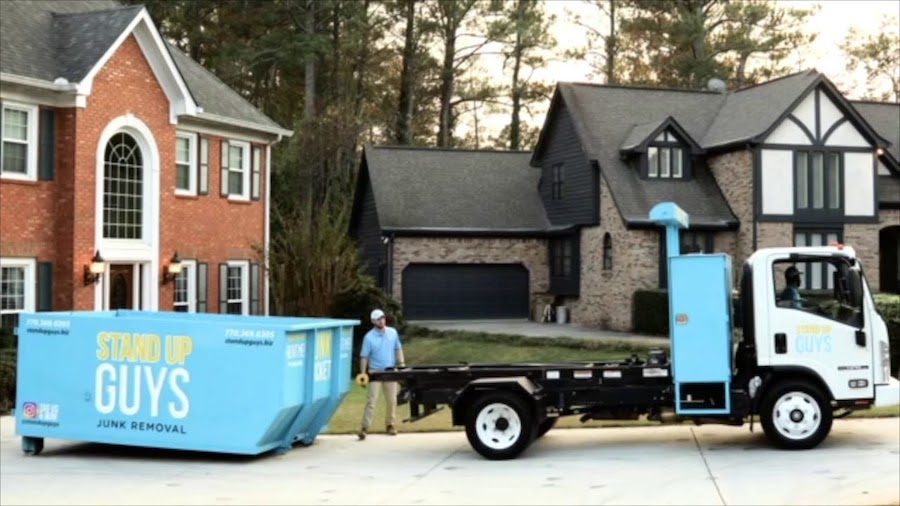 How to Price Jobs
Not sure how to price a junk removal job? Here's the general process to help you get started:
Volume of junk: This is typically the primary factor. Most junk removal businesses price their services based on the volume or space that the junk will take up in their truck or trailer. For example, a customer might be charged a certain amount for half a truckload, and a different amount for a full truckload.
Type of junk: Certain types of junk can be more expensive to dispose of due to recycling or landfill fees. For example, items like electronics, appliances, or hazardous waste might require special handling and disposal methods—leading to increased costs.
Labor involved: If a job requires more labor than usual—like carrying a piano from the third floor—this could increase the price. Also, consider how many crew members will be needed and how long the job is likely to take.
Location and accessibility: If the job site is far from your base of operations or from the disposal site, you will likely need to charge more to cover transportation costs. The applies to difficult-to-access locations as well, which is likely going to require more time and effort.
Overhead costs: It's important to factor in your business's overhead costs—such as vehicle maintenance, equipment, insurance, advertising, and miscellaneous office expenses.
Market rates: You may want to research what competing junk removal businesses in your area are charging to ensure your prices are appropriate.
In most cases, it's a good idea to offer free estimates to potential customers. This will allow you to assess the size and scope of the job in-person—ensuring that your pricing accurately reflects the work involved. Remember to always be transparent with your pricing—providing a detailed breakdown of costs to avoid any disagreements with the customer.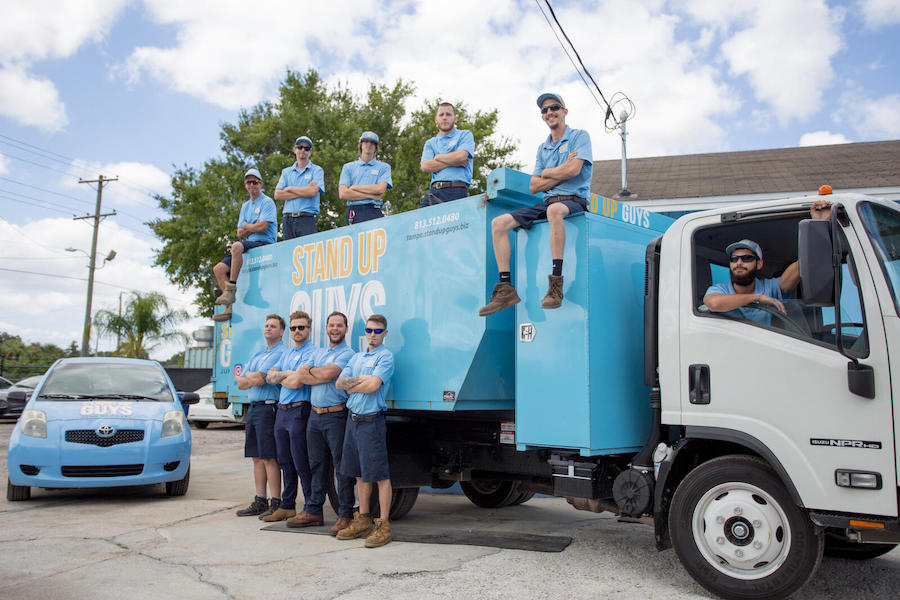 Insurance, Permits, and Licenses
When it comes to a junk removal business, it's essential that you have the necessary insurance coverage, permits, and licenses. Of course, the specifics will vary depending on local regulations and the services you're offering, but here are some general considerations:
Commercial vehicle insurance: Considering that junk removal businesses rely heavily on the use of vehicles—you will need commercial vehicle insurance to cover any accidents, damages, or theft related to your business vehicles.
General liability insurance: This protects your business in case a third party (like a customer or bystander) gets injured or their property is damaged as a result of your services.
Workers' compensation insurance: If you have employees—most states require you to carry workers' compensation insurance, which covers medical costs and lost wages if an employee is injured while working.
Waste disposal license or permit: Depending on your local regulations, you may need a special license or permit to transport and dispose of waste.
Special permits for hazardous waste: If you're dealing with hazardous materials, you will likely need specific permits and should follow particular regulations for handling and disposal.
Again, it's crucial to research the specific requirements in your area—as regulations can vary widely from one place to another. When in doubt, it's always ideal to consult with a business attorney. Also, your local Small Business Administration office can be helpful in understanding all of the legal requirements for your junk removal business.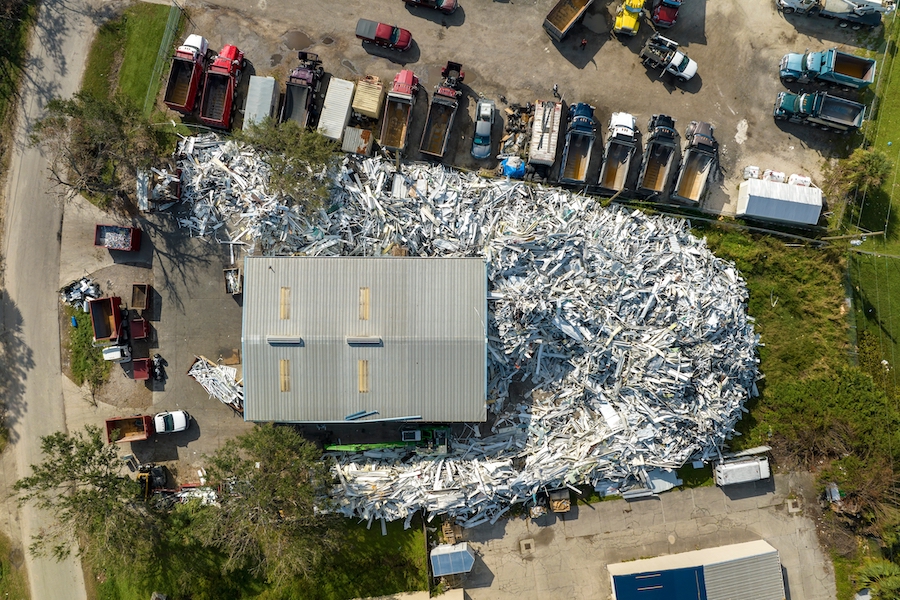 What About Waste?
Junk removal businesses must have a clear understanding of the options available for waste disposal—as well as the local, state, and federal regulations. Here are some key points to consider:
Landfills: Most general waste ends up in landfills. However, remember that there are fees associated with disposing of waste at these facilities, and certain types of waste may not be accepted. Landfill regulations vary by location so it's important to understand the procedures in your area.
Recycling facilities: Many items—such as paper, glass, metal, and certain types of plastic—can be recycled. Electronics, appliances, and certain construction materials can often be recycled as well. Recycling can reduce landfill fees and is more environmentally friendly, however, it may require sorting items—adding more labor and time to your job.
Composting: In some cases, waste like yard debris or food waste can often be composted. This is another environmentally friendly option, but keep in mind that it may not be applicable in some circumstances.
Hazardous waste: Certain types of waste—like chemicals, paint, batteries, and certain electronics—are considered hazardous and must be disposed of at special facilities. Illegally dumping hazardous waste can lead to hefty fines so this type of waste should be taken seriously.
Special items: Certain items—like mattresses, tires, and appliances—often have specific disposal regulations and may not be accepted at standard landfills.
Understanding the options and rules for waste disposal is essential for operating a junk removal business. Not only can proper waste disposal save your business money and prevent legal issues, but it can also be a selling point for customers who care about environmental responsibility.

Managing a Team
Managing a team for a junk removal business involves clear communication, effective training, and consistent monitoring of performance. Firstly, ensure your team is well-trained in customer service, safe waste handling, and disposal procedures. As Casey proved, team meetings can help to reveal new information, discuss challenges, and reinforce goals. Also, it's crucial that open communication is enforced so employees feel comfortable sharing ideas or concerns.
Implementing a reward system can be an effective way to motivate your team and acknowledge their hard work. This system could be based on individual performance, such as customer feedback—or team performance, such as meeting monthly targets. Rewards could be monetary bonuses, extra time off, gift cards, or even simple recognition at team meetings.
Monitoring employees' driving habits is also essential—as safe and efficient driving impacts customer service, fuel costs, and vehicle maintenance. GPS tracking can help you monitor routes and ensure that drivers are taking the most efficient paths. GPS can also help identify if drivers are speeding or engaging in other unsafe behaviors. You may also want to consider using dash cameras, which can be monitored from a phone app.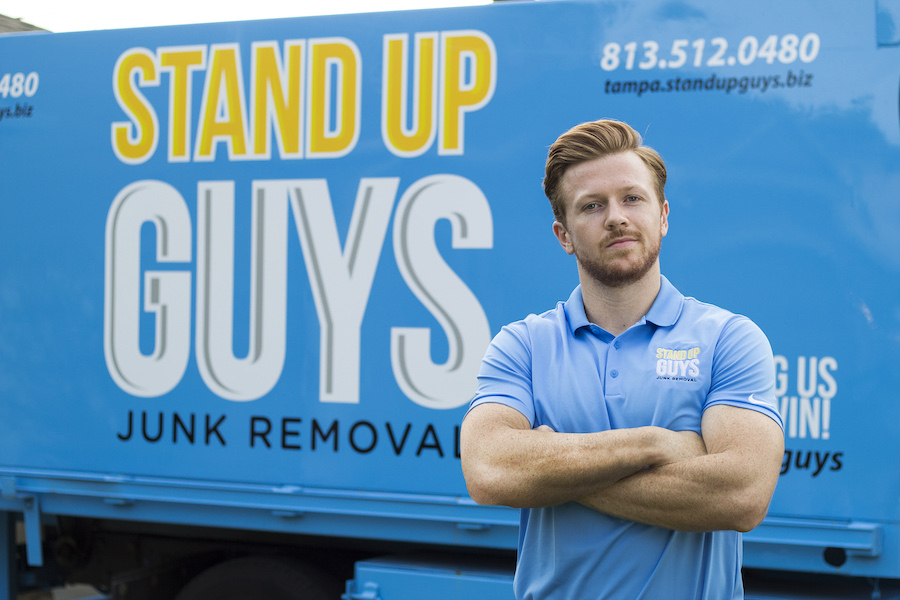 How Much Will it Cost?
Of course, the cost to start and manage a junk removal business can vary widely based on a number of factors—including the size and scope of your operations, the location of your business, and your specific business model. That being said, here are some of the general costs you may need to consider:
Vehicle purchase or lease: Your business will need at least one truck or trailer for transporting junk. The cost can range from a few thousand dollars for a used vehicle to over $50,000 for a new, commercial-grade truck.
Equipment: You'll need equipment such as dollies, hand trucks, shovels, rakes, and potentially power tools—as well as safety equipment for your team. This could cost several hundred to a few thousand dollars.
Insurance: The cost of commercial vehicle insurance, general liability insurance, and workers' compensation insurance will depend on a variety of factors—but you might expect to pay several thousand dollars per year.
Licenses and permits: The cost for obtaining the necessary business licenses and permits will depend on your local regulations. While some permits may be free, others could cost several hundred dollars.
Marketing and advertising: Although these expenses aren't required immediately, it's ideal to consider costs for website development, online advertising, print advertising, signage for your vehicles, and uniforms for your team. This could range from a few hundred to several thousand dollars—depending on your strategy, of course.
Office expenses: If you have a physical office—you'll need to consider rent, utilities, office equipment, and office supplies. However, if you're operating your business from home, these costs are likely to be lower.
Operational costs: These costs—including landfill fees, fuel, vehicle maintenance, and any employee wages—will be ongoing and will depend heavily on the volume of junk you're removing.
As a rough estimate, starting a small-scale junk removal business might cost anywhere from $5,000 to $25,000—but this can vary widely based on the factors listed above. It's ideal to create a detailed business plan and budget before starting your business to ensure you have a clear understanding of the potential costs.