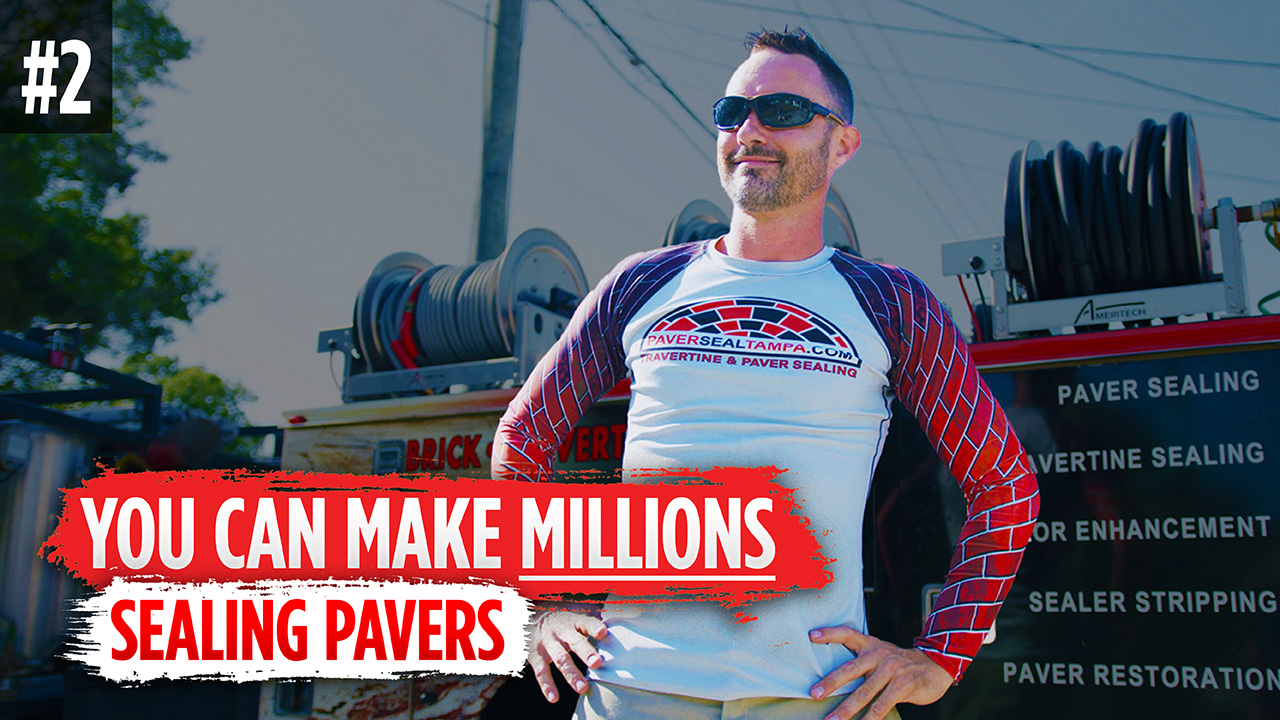 Our partner company, Sweat Venture, interviewed Daniel Bianco, owner of Paver Seal Tampa. Offering paver sealing, travertine sealing, pressure washing, and other related services, Daniel has one of the successful paver sealing businesses in Florida.
A paver sealing business is a company that specializes in the application of protective sealants to pavers—which are often used for driveways, walkways, patios, and pool decks. These sealants help to protect the pavers from the elements, prevent staining, maintain their color, and increase their lifespan. In addition to sealing, paver sealing businesses may also offer related services such as cleaning and pressure washing to prepare surfaces for sealing and maintain their appearance. A paver sealing business typically serves both residential and commercial customers and may operate in a specific local area or region.
Are you thinking about starting a paver sealing business? If so, consider these takeaways from Daniel's interview…
What Services Can You Offer?
The owner of a paver sealing business might want to consider these services:
Paver sealing: Applying a protective sealant to outdoor paver stones to prevent damage and maintain their appearance.
Travertine sealing: Protecting travertine surfaces by applying a specialized sealant.
Concrete sealing: Applying a sealant to concrete surfaces to protect them from water, dirt, and other potential damage.
Pressure washing: Using a high-pressure water spray to clean exterior surfaces like driveways, sidewalks, and patios.
Soft washing: A gentler cleaning method for delicate surfaces like wood decks or certain types of siding.
Deck sealing/staining: Applying a protective sealant or stain to wooden decks to prolong their lifespan and enhance their appearance.
Graffiti removal: Using special chemicals or pressure washing to remove graffiti from exterior surfaces.
Brick and stone cleaning: Offering specialized cleaning services for brick and stone surfaces, which can be more delicate.
Gutter cleaning: Clearing out gutters to prevent water damage to the property.
Rust removal: Using specialized chemicals or techniques to remove rust stains from various surfaces.
Oil Stain removal: Removing oil stains from driveways and garage floors—usually through a combination of specialized cleaners and pressure washing.
Fence cleaning and sealing: Cleaning and applying protective sealants to wooden fences.
Roof cleaning: Removing dirt, moss, and algae from roofs using safe and effective methods.
Pool deck cleaning and sealing: Cleaning and applying a protective sealant to pool decks to prevent damage and maintain their appearance.
Commercial pressure washing: Offering larger-scale pressure washing services for commercial properties.
Driveway resealing: Applying a sealant to asphalt driveways to prolong their lifespan and improve their appearance.
Siding cleaning: Cleaning home siding to remove dirt and prevent damage.

What Equipment is Needed?
The owner of a paver sealing business might want to consider this equipment:
Pressure washer: A machine that sprays water at high pressure, used for cleaning surfaces.
Soft wash system: A system that uses lower pressure than a traditional pressure washer and is typically used for more delicate surfaces.
Sealant sprayer: A device for applying sealants evenly over surfaces.
Surface cleaner attachment: An attachment for your pressure washer that allows for efficient and even cleaning of flat surfaces.
Ladders: Various sizes of ladders for reaching high places.
Extension wands: These are used to extend the reach of your pressure washer and are useful for tall buildings or hard-to-reach areas.
Hoses and hose reels: Durable hoses for the pressure washer and hose reels for easy storage and transport.
Nozzles and tips: Various nozzles and tips for your pressure washer to adjust the spray pattern and pressure.
Protective gear: This may include gloves, safety glasses, waterproof boots, and possibly respirators if you are working with certain chemicals.
Cleaning solutions and sealants: You'll need various cleaning solutions for different types of jobs—as well as sealants for pavers, concrete, wood, and other surfaces.
Brushes and brooms: For scrubbing surfaces as needed.
Squeegees and mops: For drying or cleaning surfaces.
Tarps and drop cloths: To protect surrounding areas from overspray or runoff.
Pressure washer surface cleaner: An attachment for cleaning large, flat areas like driveways or patios.
Hot water pressure washer: For certain jobs, a hot water pressure washer may be needed—as hot water can be more effective at removing some types of grime.
Truck or van: A vehicle for transporting your equipment and crew to job sites.
Storage bins and tool boxes: For organizing and transporting smaller tools and supplies.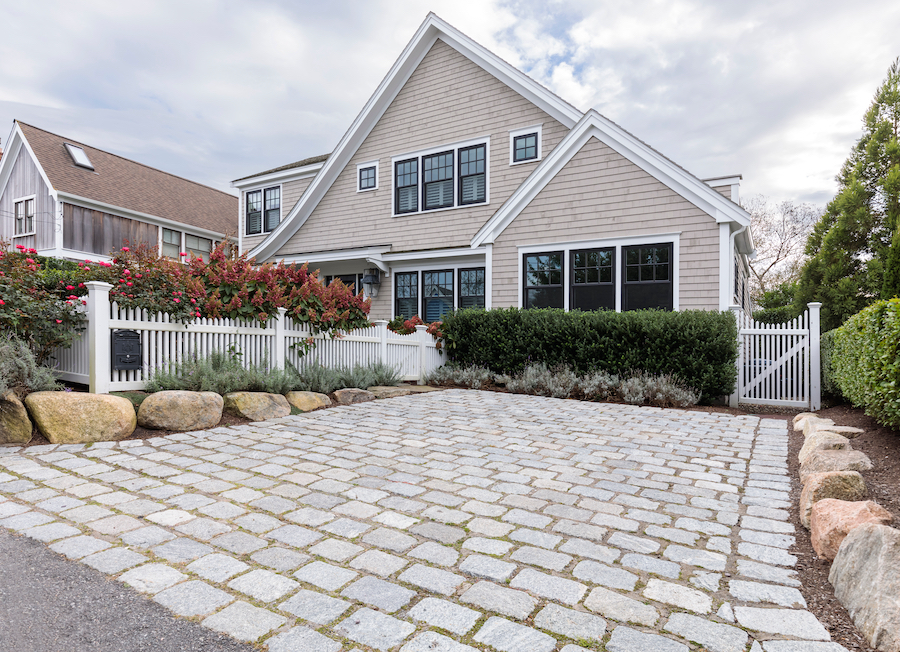 How to Get Clients
Getting new clients for a paver sealing business involves a combination of effective marketing strategies, reputation building, and excellent customer service.
Starting with a well-designed, mobile-friendly website is essential. The website should highlight the services offered, showcase previous work through high-quality images or videos, and offer an easy way for potential clients to get in touch. If you have the budget, Search Engine Optimization (SEO) can be used to increase the site's visibility on search engines.
Next, leverage the power of social media platforms like Facebook, Twitter, Instagram, and LinkedIn. Regularly posting before-and-after photos, tips for maintaining pavers, and special promotions can help engage potential clients.
Another effective strategy is to establish partnerships with local businesses such as landscapers, pool companies, or home improvement stores who can refer their clients. Also, consider joining local business associations or chambers of commerce can provide networking opportunities.
Remember that excellent customer service is the key to repeat business and referrals. Always being professional, punctual, and respectful can leave a lasting impression on clients and lead to more business in the future. Experienced business owners like Daniel who have perfected customer service get enough referral business to where they most likely don't even need to pay for advertising.

How to Price Jobs
Not sure how to price a paver sealing job? Here's the general process to help you get started:
Measure the area: The first step is to measure the area of the pavers that need to be sealed. The size of the area is usually the biggest factor in determining the cost of the job—as larger areas require more time, labor, and materials.
Condition assessment: Next, assess the condition of the pavers. If they are dirty, stained, or damaged, additional services like pressure washing or repairs may be required before the sealing can be done. These additional services will add to the total cost.
Material costs: Calculate the cost of the materials required for the job. This will include the sealant itself—as well as any other materials needed for cleaning or repairs.
Labor costs: Estimate the time it will take to complete the job, and multiply this by your labor rate. Remember to account for all labor—including preparation, application of the sealant, cleanup, and any additional services.
Overhead costs: Overhead costs include things like insurance, equipment depreciation, vehicle expenses, advertising, and office expenses. These costs should be factored into your prices so that your business remains profitable.
Profit margin: Decide on a profit margin that allows your business to grow and provides a fair income for your work. This might be a percentage of the total costs, or a fixed amount per job.
Market rates: Finally, it's important to consider the going rates in your area. While you don't want to undervalue your services, setting prices that are significantly higher than your competitors may make it difficult to attract customers.
Remember that every job is unique, and there may be other factors that affect the price. It's also important to provide a detailed written estimate to potential clients—outlining all costs and explaining the services to be provided. This helps to establish trust and transparency with the client.

Types of Sealers
When choosing a sealer, it's important to consider the type of surface, desired finish, and specific protection needs. Here's a list of sealers that you might want to consider:
Acrylic sealers: Acrylic sealers are popular because they are UV resistant, non-yellowing, and available in both water-based and solvent-based forms. They're suitable for a variety of surfaces and come in different sheen levels from matte to high-gloss.
Silicone sealers: Silicone sealers penetrate the surface to provide water repellency and can help to prevent staining. They usually don't alter the appearance of the pavers.
Polyurethane sealers: Polyurethane sealers form a high-build protective film on the surface of the pavers. They're often used for high-traffic areas because of their durability.
Epoxy sealers: Epoxy sealers form a thick, hard finish on the surface of the pavers. They're highly durable and resistant to chemicals, which makes them suitable for commercial applications.
Silane/Siloxane sealers: These penetrating sealers provide excellent water and salt repellency without changing the appearance of the paver. They're breathable—allowing moisture vapor to escape.
Natural stone sealers: These are specifically designed for natural stone surfaces like travertine and slate. They penetrate the surface to provide protection without affecting the natural look of the stone.
Color enhancing sealers: These sealers penetrate the surface and enhance the natural colors of the pavers. They can give the pavers a "wet look" even when they're dry.
Water-based sealers: Water-based sealers are typically easier to apply and clean up, lower in VOCs, and less prone to discoloration compared to solvent-based sealers. They can be acrylic, silicone, or other types.
Solvent-based sealers: Solvent-based sealers often offer superior penetration and durability, but they have higher VOCs and require more care in application and cleanup. They can be acrylic, polyurethane, or other types.
Keep in mind that the best choice of sealer will depend on the specific requirements of each job. It's important to fully understand the properties and application methods of each type of sealer, and to discuss these with your clients to ensure their needs are met.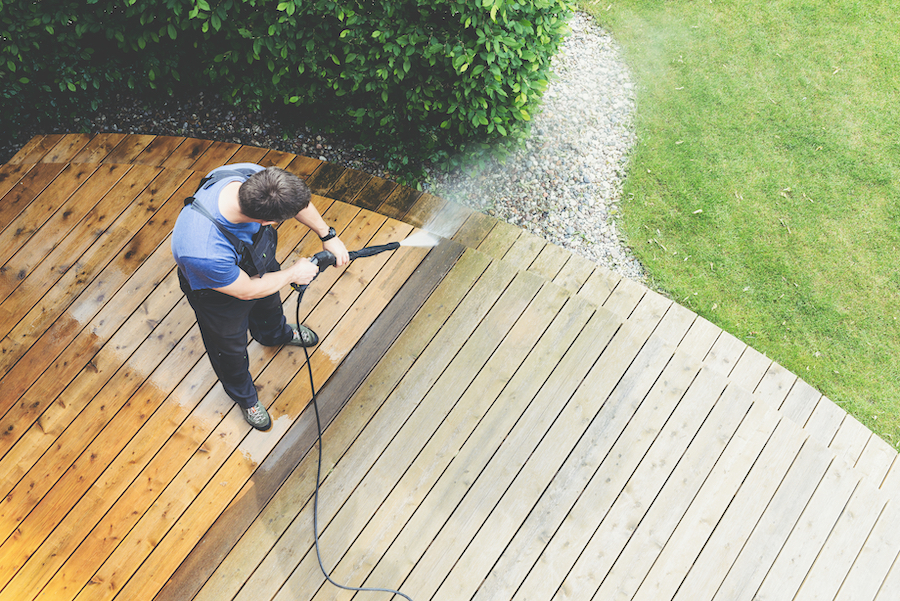 Insurance, Permits, and Licenses
Yes, many of the items listed are required by law for a paver sealing business, although the specifics can vary significantly depending on the location and nature of the work.
General liability insurance: While not always legally required, it is highly recommended for any business. It protects you if you're ever sued due to injury or property damage that occurs as a result of your services.
Workers' compensation insurance: This is typically required by law if you have employees. The exact requirements vary by state in the U.S., but generally, you must provide workers' compensation coverage if you have employees.
Vehicle insurance: Commercial vehicle insurance is required by law if you're using a vehicle for business purposes. The exact coverage required can vary by state.
Permits and licenses: Many jurisdictions require businesses to obtain certain permits and licenses to operate legally. For a paver sealing business, this might include a general business license, a contractor's license, or environmental permits for handling and disposing of certain chemicals.
Surety bonds: In some cases, surety bonds may be required by law, especially for contractors working on larger or government projects.
It's important to check the specific legal requirements in your state and municipality. You should consult with a legal professional or a business advisor to ensure you are meeting all legal requirements for operating a paver sealing business.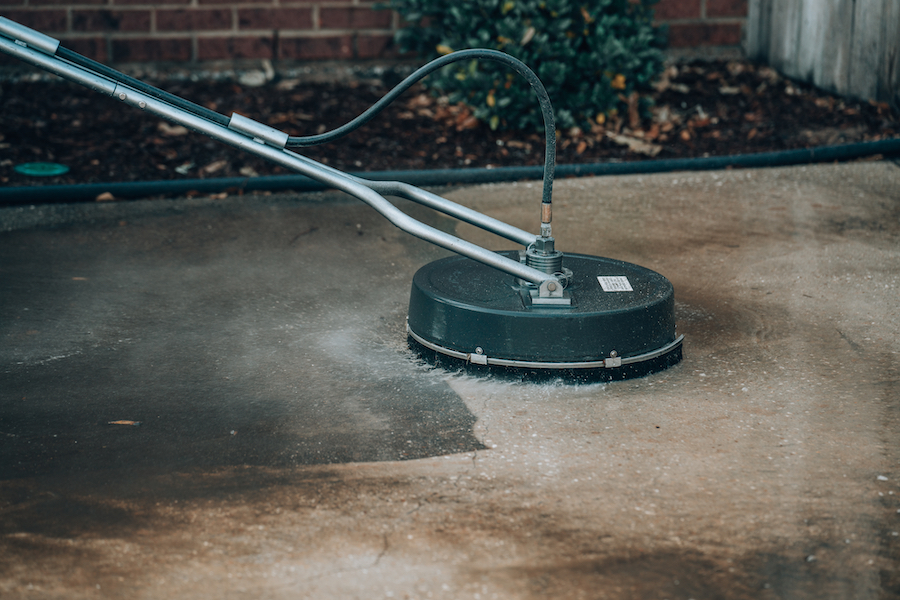 How Much Will it Cost?
The cost to start a paver sealing business can vary greatly depending on the scale at which you plan to start, the equipment you need, and the costs associated with legal requirements such as insurance and licensing. That being said, here's a rough breakdown:
Equipment costs: This will likely be your biggest initial expense. A quality pressure washer can cost anywhere from $1,000 to $3,000, and a professional-grade sealant sprayer can range from $500 to $2,000. Additional tools and supplies—including ladders, hoses, cleaning solutions, and safety gear, can add several hundred dollars more.
Vehicle costs: You'll need a reliable vehicle capable of transporting your equipment and crew. The cost here can vary significantly—from a few thousand dollars for a used pickup truck or van—to over $30,000 for a new commercial vehicle.
Insurance costs: General liability insurance for a small business can range from $500 to $2,000 per year, depending on your coverage needs. If you have employees, you'll also need workers' compensation insurance—which can vary widely in cost depending on your state and the size of your workforce.
Permit and license fees: These can range from less than $100 for a basic business license, to several hundred dollars for specialized contractor licenses or environmental permits. Check with your local and state government for specific costs.
Marketing costs: Setting up a website, printing business cards, and advertising your services can also add to your startup costs. Depending on your approach, you might spend anywhere from a few hundred to several thousand dollars on initial marketing efforts.
Operating expenses: Don't forget to account for recurring operating expenses—such as fuel for your vehicle, regular equipment maintenance, office supplies, and any rent or utilities if you're not operating out of your home.
Given these variables, a rough estimate for starting a paver sealing business might be between $5,000 and $20,000. However, keep in mind that these costs can vary, and it's always a good idea to create a detailed business plan to understand your specific startup costs and ongoing expenses.