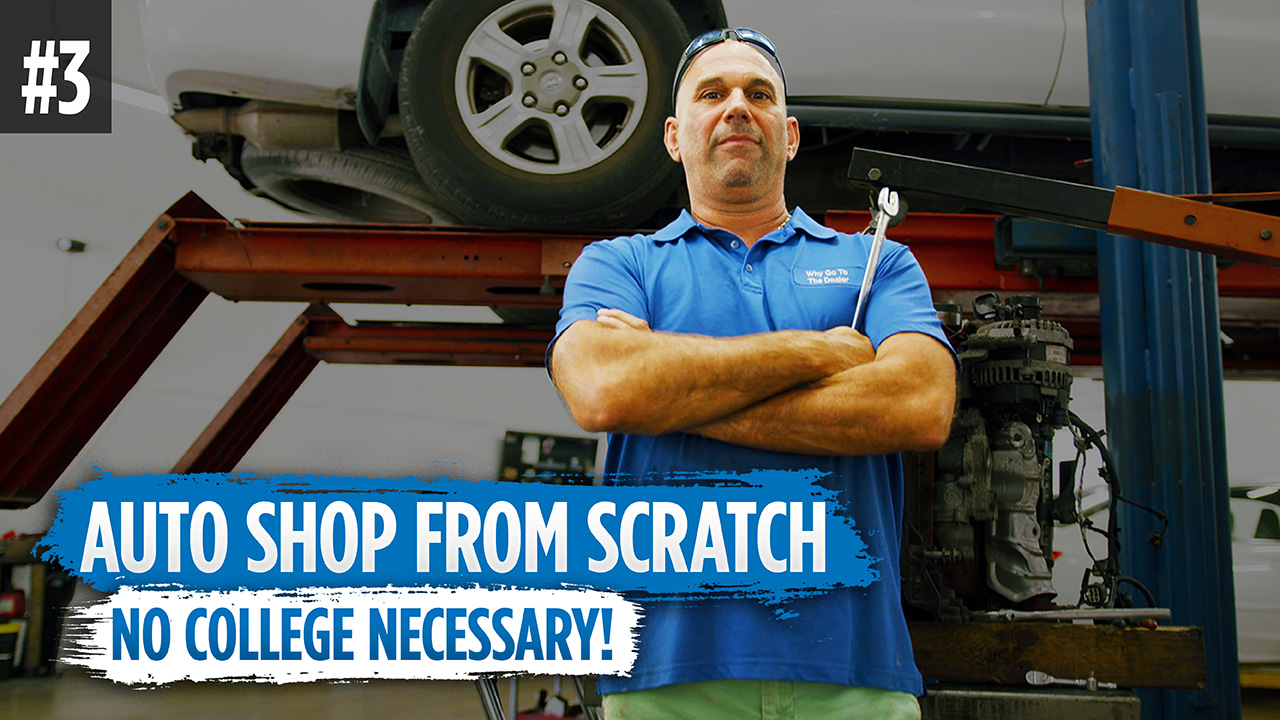 Our partner company, Sweat Venture, interviewed Mark Brodsky, owner of Why Go to the Dealer?—which is considered one of the best auto repair and body shops in South Florida. Mark has 30+ years of experience and offers a wide range of services for luxury vehicles.
An auto mechanic is a professional who specializes in the repair and maintenance of cars and other vehicles. Mechanics diagnose and fix issues related to various parts of a vehicle—such as the engine, transmission, suspension, brakes, and electrical systems. Auto mechanics also perform routine maintenance to ensure vehicles run smoothly and safely—including oil changes, tire rotations, and brake inspections. Additional services may include replacing worn-out parts, testing for and fixing performance problems, and advising customers on proper vehicle care.
Are you thinking about starting an auto repair business? If so, consider these takeaways from Mark's interview…
Auto Repair Shop vs Body Shop
Although there can sometimes be some overlap, an auto mechanic and a body shop perform different services in vehicle maintenance and repair.
Auto mechanics—often based in repair shops or service centers—primarily focus on the mechanical and electrical parts of the vehicle. They diagnose and repair issues with engines, transmissions, brakes, exhaust systems, and other mechanical components. In addition, they also typically handle routine maintenance such as oil changes, tire rotations, and tune-ups.
On the other hand, body shops specialize in repairs to the exterior of a vehicle. This usually entails fixing damage from accidents—such as dents, scratches, and bent frames. They also handle tasks like repainting, replacing windshields or windows, and repairing or replacing other damaged exterior parts.
While both auto mechanics and body shops play crucial roles in vehicle upkeep, their areas of expertise are generally specific—mechanics handle the functional aspects, while body shops take care of the vehicle's exterior aesthetics and structural integrity.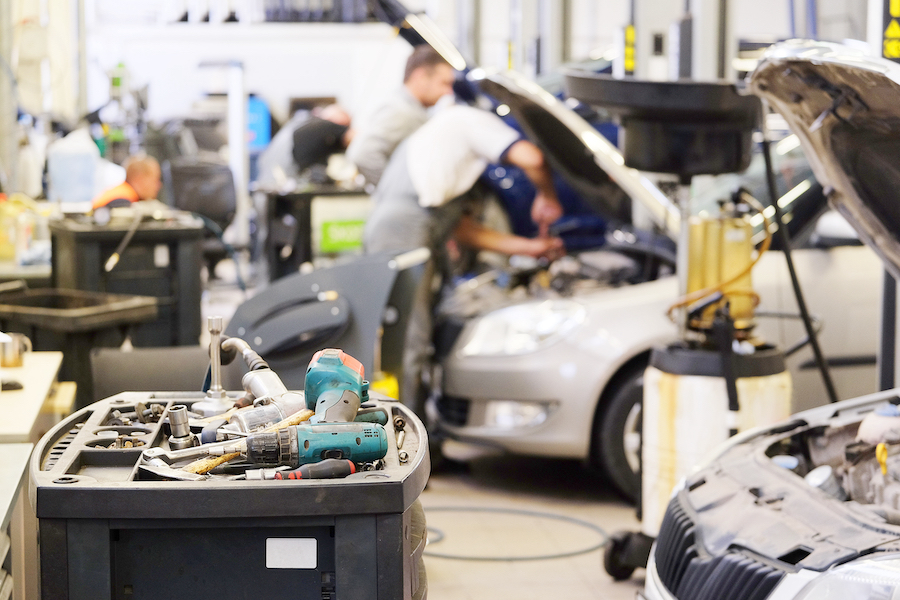 What Services Can You Offer?
This guide is focused on an auto repair business. For those interested in starting an auto repair business, you might want to consider these services:
Routine maintenance: This includes oil changes, fluid checks and replacements, tire rotation and balancing, brake inspections and replacements, battery checks, air filter changes, and spark plug replacements.
Engine services: Engine repairs and diagnostics, engine replacements, and engine performance checks can be complicated, but they are essential services that most auto repair shops provide.
Transmission services: These services may include transmission fluid changes, transmission repairs, and clutch repairs and adjustments.
Brake services: These can range from changing brake pads and rotors to more complex tasks like repairing or replacing entire brake systems.
Electrical system services: This involves diagnosing and repairing issues with the vehicle's electrical system—including the battery, starter, alternator, lights, and other electronic controls and features.
Exhaust system services: This includes repairing or replacing components of the exhaust system—such as the muffler, catalytic converter, or exhaust pipes.
HVAC services: Repairing and servicing heating, ventilation, and air conditioning systems in vehicles is another common service offered by auto repair businesses.
Inspection and diagnostics: These services involve the use of specialized diagnostic tools to identify issues with the vehicle—as well as providing state-required vehicle inspections, if applicable in your area.
Tire services: Aside from rotating and balancing tires—you might also want to offer tire sales, tire repairs (including patching), and wheel alignments.
The services your auto repair business offers are likely to depend on your specific expertise, the needs of your target market, and your business model. For example—if you're starting a small, specialized shop—you might focus on a narrower range of services. On the other hand, a larger shop might offer a full range of auto repair and maintenance services.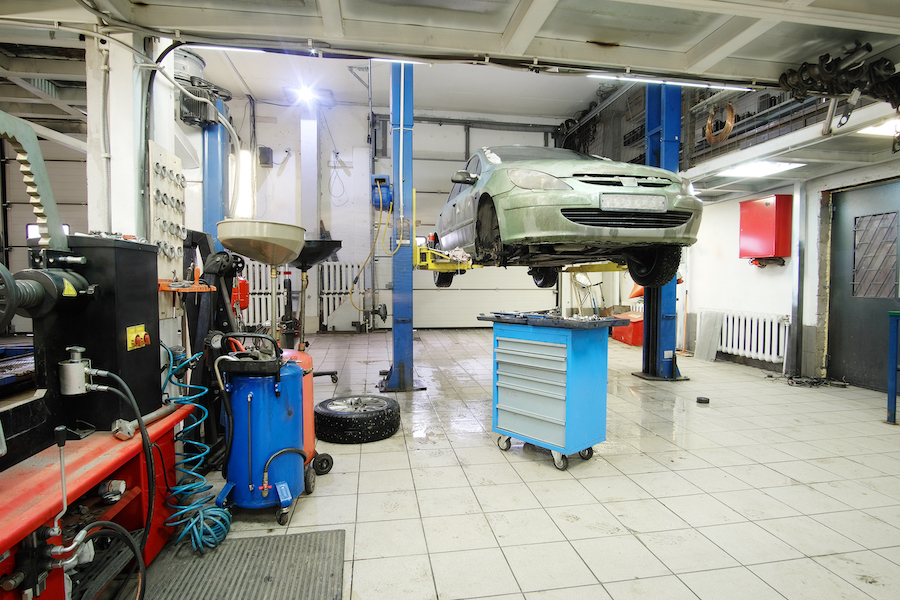 What Equipment is Needed?
Starting an auto repair shop requires a range of equipment, which can range from affordable to expensive. Here are some of the essentials you may want to consider:
Vehicle lifts: These are crucial for raising vehicles off the ground so mechanics can work underneath them. There are various types—including two-post lifts, four-post lifts, and scissor lifts.
Air compressor: An air compressor is necessary for various many types of automotive tools—such as impact wrenches and paint sprayers.
Tool sets: Mechanics need a wide range of hand tools—including wrenches, ratchets and sockets, screwdrivers, pliers, hammers, and more.
Diagnostic equipment: Modern vehicles have complex electronic systems that are diagnosed using specialized scanners and diagnostic tools.
Tire changers: These machines are used to separate tires from wheels, which is necessary for replacing tires.
Wheel balancers: After changing a tire, a wheel balancer ensures the tire is balanced properly to prevent vibrations and uneven tire wear.
Vehicle jacks and jack stands: These are used for lifting specific parts of a vehicle off the ground—usually when a full vehicle lift isn't necessary.
Brake lathe: This machine is used to resurface brake rotors, which can become worn or warped over time.
Safety equipment: This includes items like gloves, safety glasses, and first aid kits to protect mechanics from potential hazards.
Waste oil drain and disposal containers: These are needed to collect and properly dispose of used motor oil and other fluids.
Pressure washer: Useful for cleaning vehicles and—in some cases—even parts.
Alignment machine: If you're offering wheel alignments, you'll need a specialized alignment machine.
Of course, the specific equipment you'll need will depend on the services you're offering. Also—while buying new equipment can be quite costly—good-quality used equipment can usually be found for a fraction of the price.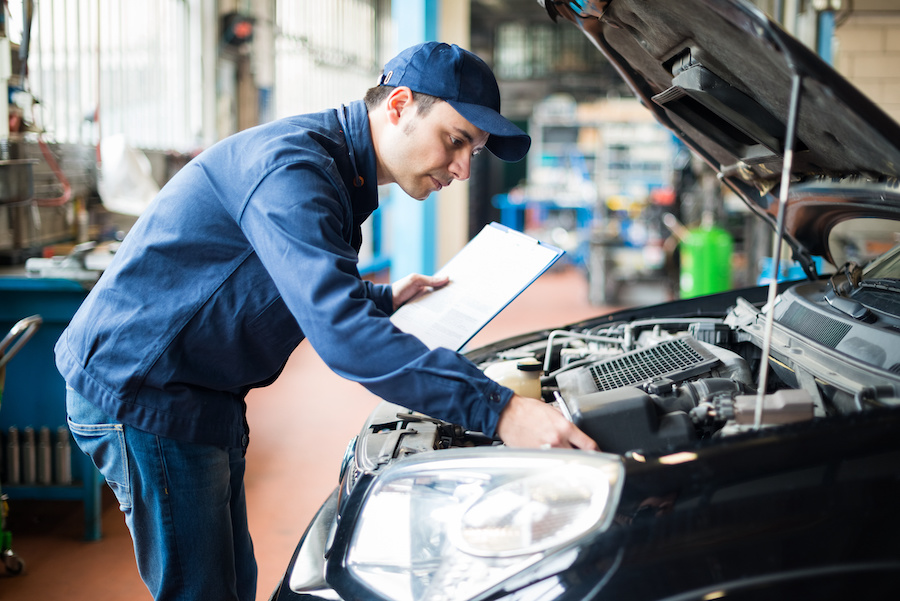 What About Skills and Training?
Opening and operating an auto repair business requires a combination of technical and business skills.
On the technical side, a deep understanding of automotive systems is essential—including knowledge of engines, transmissions, brakes, electrical systems, and other key vehicle components. Mechanics also need practical skills such as problem-solving, troubleshooting, and the ability to use various tools and diagnostic equipment. Training in these areas can be gained through vocational or technical schools that offer automotive technology programs. However—if school isn't for you—many mechanics receive on-the-job training as an apprentice to an experienced mechanic (like Mark).
In addition to technical skills, running a successful auto repair business also requires business and management skills—including knowledge of business operations, finance, marketing, customer service, and human resources. The Heavy Ape courses are excellent resources for these skills so we recommend you check them out in the menu above.
How to Get Clients
You might want to start by establishing a strong online presence through a solid website that provides information about your services, prices, and business location. Online directories and Google My Business can help your shop appear in local search results. Also, be sure to leverage social media platforms to engage with potential customers, share updates, and promote special offers.
In addition to digital strategies, traditional marketing methods can also be effective—including print advertising in local newspapers or magazines, distributing flyers, or even sponsoring local events to increase brand visibility.
Customer referrals are another powerful way to attract new clients—especially for auto repair shops. Offering high-quality, honest service will organically lead to positive word-of-mouth leads. You can also setup a referral program that offers discounts or other incentives to customers who refer their friends or family to your shop.
Also, consider offering promotions for first-time customers or loyalty discounts for recurring clients. Remember, retaining customers is just as important as gaining new ones—it's generally more cost-effective and can lead to more stable, predictable business growth.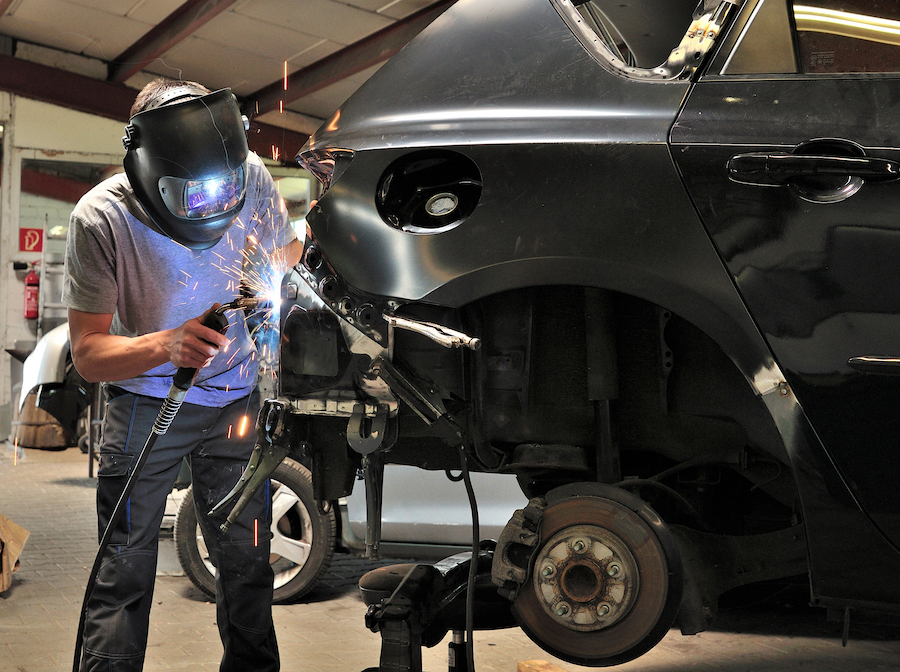 How to Price Jobs
Pricing auto mechanic jobs involves several factors—including labor costs, parts costs, overhead, and the market rate for similar services in your area. Here's a brief explanation of each component:
Labor costs: This is the cost of the mechanic's time to perform the job, which is typically calculated based on an hourly rate. Many shops use a labor guide, which provides estimates for how long different types of jobs should take.
Parts costs: If the job involves replacing parts, you'll need to factor in the cost of these parts. Typically, shops mark up parts from their wholesale cost to cover the time and effort involved in ordering and managing inventory. The markup can vary, but a common approach is a percentage markup—often between 25%-50%.
Overhead: This includes all of the costs involved in running your business—such as rent, utilities, insurance, equipment, and supplies. These costs aren't typically calculated for individual jobs, but they should be considered when setting your labor rates and parts markups to ensure you're covering your expenses.
Market rates: It's important to know what the competitors in your area are charging for similar services—to ensure your prices are competitive. If your prices are significantly higher, you may struggle to attract customers. However, if they're significantly lower, you may be leaving money on the table or even lose profit on your jobs.
The combination of labor, parts, and overhead costs will give you the cost of the job—but to determine the final price, you'll want to add a profit margin. This is a percentage of the cost that ensures your business makes a profit on each job. The exact margin can vary—depending on your business model and local market conditions—but a 10%-20% profit margin is a common target in this industry.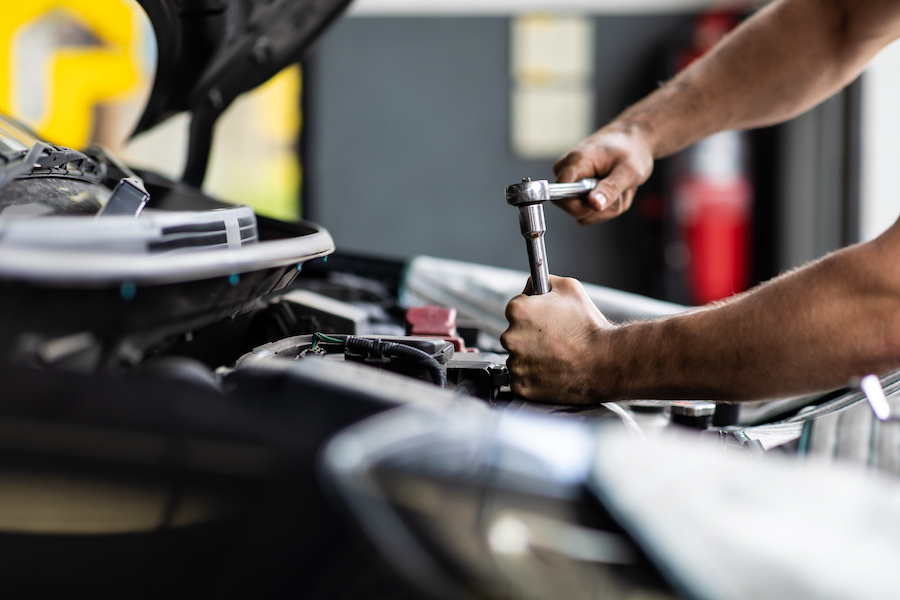 Insurance, Permits, and Licenses
Operating an auto repair business requires several types of insurance, permits, and licenses—though the exact requirements can vary by location and the specific services you offer. Although all aren't required, here are some that you may want to consider:
Business license: This is a basic requirement for any business. The process for obtaining a business license varies by city and state so check with your local offices to find out the specifics.
Motor vehicle repair license: Some states require auto repair shops to have a specific license to perform motor vehicle repairs. The requirements for this license can vary so you may want to check with your state's licensing board.
Sales tax license: If you're selling parts to customers, you'll likely need a sales tax license from your state's Department of Revenue.
Environmental permits: If your shop will be handling hazardous materials—like oil, antifreeze, or refrigerants—you may need environmental permits. These are typically offered by your state's Department of Environmental Protection.
As far as insurance goes, here are some types that are commonly required for an auto repair business:
General liability insurance: This covers legal costs and any judgments you might have to pay if your business is sued for causing property damage or physical injury.
Workers' compensation insurance: If you have employees, most states require you to carry workers' compensation insurance—which covers medical costs and lost wages if an employee is injured on the job.
Garage liability insurance: This is a specialized type of insurance for auto repair shops that covers liability for operations and vehicles.
Garagekeepers insurance: This covers damage to customers' vehicles while they're in your care, custody, or control.
Property insurance: This covers damage to your building and its contents—like tools and equipment.
Remember that it's ideal to consult with a business attorney and an insurance agent to make sure you're meeting all legal requirements and properly protecting your auto repair business.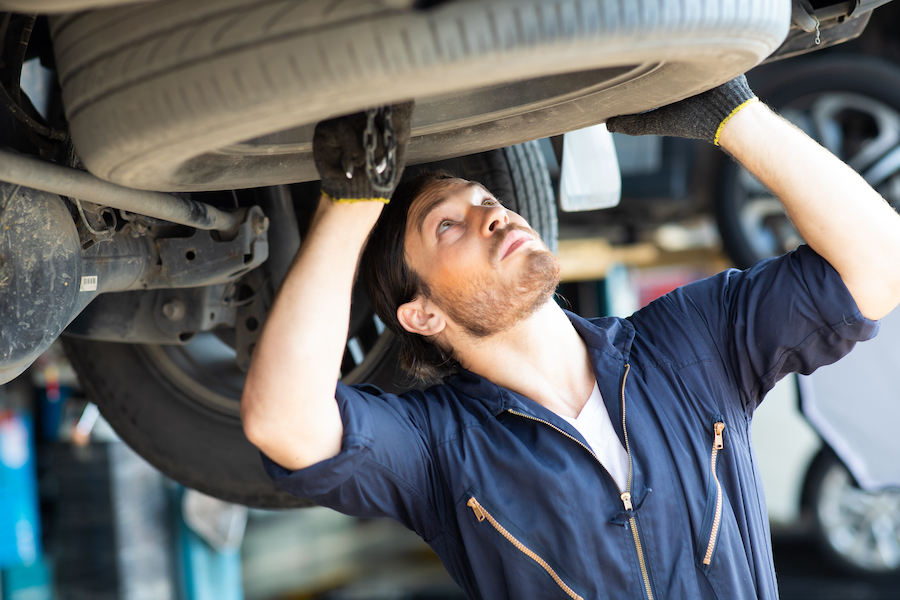 How Much Will it Cost?
Although starting an auto repair shop generally requires a significant investment, this type of business can be highly lucrative. Of course, the total cost can vary—depending on several factors. Here's a breakdown of some of the primary costs:
Shop lease or purchase: The cost of your location will depend on its size, condition, and location. A lease might cost anywhere from $1,500 to $15,000 per month—depending on these factors. Obviously, purchasing a property requires a larger upfront investment.
Equipment and tools: You'll need a variety of equipment and tools—including vehicle lifts, air compressors, diagnostic equipment, hand tools, and more. This could cost between $15,000 and $100,000—depending on whether you buy new or used equipment.
Inventory: If you're selling parts, it's ideal to stock an inventory. The cost will depend on the size and variety of your inventory but could range from $5,000 to $20,000 or more.
Licenses and permits: The costs for these will vary by location, but you might expect to spend a few hundred to a few thousand dollars.
Insurance: The cost of insurance will depend on various factors—including the size of your shop, the number of employees, and the types of coverage you choose. It might range from $2,000 to $10,000 per year or more.
Marketing and advertising: To attract customers to your new business, you'll likely need to invest in marketing and advertising. The cost can vary widely—depending on the methods you utilize.
Operating expenses: Don't forget to account for ongoing expenses like utilities, salaries, and supplies. These will vary based on your specific situation.
In total, you should expect to spend anywhere from $50,000 to $200,000 or more to start an auto repair shop. However, these are rough estimates, and your actual costs could be higher or lower. It's ideal to create a detailed business plan to estimate your startup costs more accurately and ensure you have a viable path to profitability.
Purchasing an existing auto repair shop from a retiring owner or someone changing careers can also be an option.
This option offers multiple advantages—including an established customer base, existing employees, and already purchased equipment and inventory. The shop's reputation could also be beneficial in attracting new customers.
However, it's crucial to conduct due-diligence before buying another auto repair business. This due-diligence may include reviewing the business's financial records, inspecting the facilities and equipment, and understanding any existing liabilities. Consulting with a business broker or attorney is recommended to navigate this process.